Our Aluminum Handle With Squeegee is solvent resistant, easy-grind, good-resilient, sharp bladed, small expansion and long life. It is widely used in screen printing industry, Photovoltaic solar panel, electronic circuit board, CD/DVD and other aspects of hand and machine printing industry.
  Features
  Screen Printing Polyurethane PU squeegee Rubber Features:
  The best solvent resistance, multi-color printing.
  The highest wear rub electronic printed circuit boards.
  Excellent weather resistance (temperature, humidity) Container Printing (bottles, cans).
  Easy to grind automatic textile printing.
  Individually packaged to prevent light and dust, fingerprints or other machine printed
  Apply to textile screen printing industry
  Apply to large advertisement industry
  Apply for auto-printing machine
  Apply to: High precise LCD, high precise multi-layered circuit board and electronic printing ect.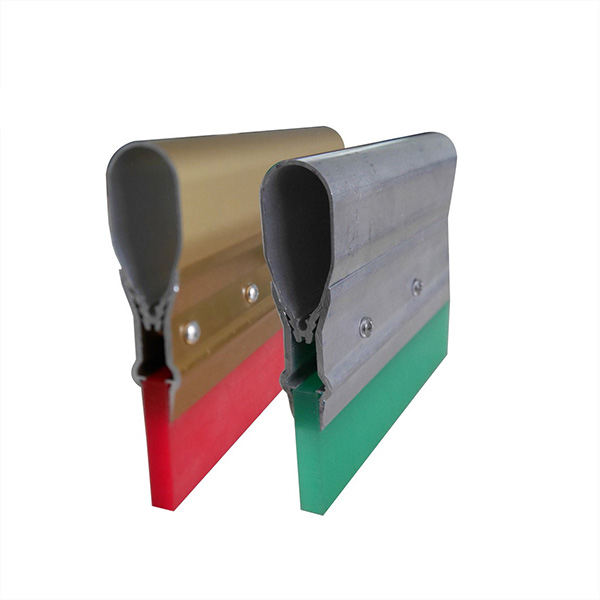 Apply to textile screen printing industry
  Product Description
  Specification :
  PU Squeegee:
  50*9mm ,55*9mm,45*9mm,50*7mm,45*7mm,40*7mm,55*5mm,50*5mm,45*5mm,40*5mm,38*8mm,35*5mm,25*5mm(Customized)
  Shore:55shore,60shore,65shore,70shore,75shore,80shore,85shore,90shore
  Shape:Flat shape,V shape.(Customized)
  Packaging & Shipping
  Samples:
  Available
  Packing:
  carton,plastic package and packing sheet or as requirement.
  Delivery:
  3-15 days after payment
  Shipment:
  1) Small order: By express, DHL, UPS, FEDEX, EMS2) Large order: By sea or by air3) Choose the best and convenient way for your need
  Payment:
  We accept T/T,Western Union and Paypal
  our company as a Screen Printing frame manufacturer,if you need that pls contact us.